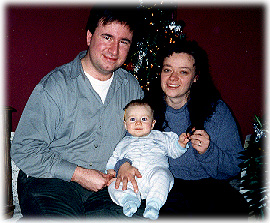 Web page of Paul and Sally Quirk
Where we share with the world!
Contents
About Paul and Sally
Would you like to see Paul's résumé?
Contact me, I will e-mail you with the link!
What about Sally?
Sally is a great mother and a wonderful wife!
Links
These are useful places that we like to visit while on the web:
More to come, stay tuned...
Contact Information
EMail Address
Send us a message at psquirk@hotmail.com.
Current Projects
Nick's Photo Album on the web
We started this a while ago, but the pictures are so big it's too slow! So now I'm working on compressing the jpeg's into smaller sizes, and breaking up the album into several pages. If you have the bandwith or the time, you can see it here.
Paul's Micra Tribute Page
A little car I used to drive while in College. I liked it so much I made a tribute page for it about the time I finally sold it. It has been replaced by a Dodge Neon. You can find my tribute page here. Yes, I created everything myself, even the nifty custom wallpaper, using free software that came bundled with my scanner and printer! A keen eye will reveal to you which photo was used to create the wallpaper.
Paul's new format résumé
I feel that conventional résumés are inneffective, so I've completely redone it. Stay tuned here to see it, it will really break all the rules to deliver what's important!
Biographical Information
Well, what do you need to know about us? We are currently a family of 3, but we plan to grow again soon. We are a proud Canadian family.
Personal Interests
We believe in old fashioned family values. We also believe that families should play together. We enjoy long camping trips together, as well as travelling. We cycle as we explore new trails together, and we also enjoy long evening walks. We have a lot of fun together as a family.
Last updated on:Apr. 19 2000